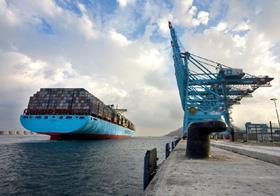 Maersk Line has launched a new weekly refrigerated cargo service between Santa Marta and Turbo in Colombia and Northern Europe, called The Colombia Express.
'From pineapples to avocados to bananas, fruit exporters can now take advantage of Maersk Line's reliability and reefer expertise to access European markets with the knowledge that their products are in the very best hands,' the group announced. 'Using StarCare technology refrigerated containers, which are designed especially to carry bananas over longer distances (up to 45 days); Maersk Line is setting new standards within the containerised controlled atmosphere business.'

The new service has a rotation of Turbo and Santa Marta (Colombia), Portsmouth (UK), Antwerp (Belgium), and Hamburg (Germany) and had its maiden voyage on 8 January. The vessels operating on the route have a capacity of 2,500 TEUs.

Maersk Line is adding 30,000 new state-of-art containers to its reefer family.
Shereen Zarkani, global head of reefer management, commented on the company's strategy: "We are upgrading our reefer fleet to help our customers deliver on their promises. When we pair our expertise and customer relationships with modern innovation, we can make a real difference in supply chains."