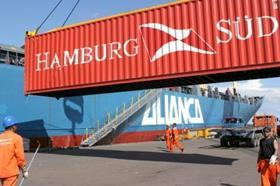 Maersk Line has signed a deal to acquire German container shipping line Hamburg Süd, the German container shipping line. The acquisition is subject to final agreement and regulatory approval.
Hamburg-Süd, which is part of the family-owned Oetker Group, is the world's seventh-largest container operator in terms of capacity, operating 130 vessels with a capacity of 625,000 TEUs.
"The acquisition of Hamburg Süd is in line with our growth strategy and will increase the volumes of both Maersk Line and APM Terminals," said Maersk Line's CEO Søren Skou.
Hamburg Süd and Aliança will continue as separate brands and continue to serve customers through their local offices.
As reported on Fruitnet on Wednesday, the deal forms part of Maersk's strategy of boosting its market share through acquisitions and organic growth and tackle the overcapacity that has hampered the shipping industry in recent years.
"Hamburg Süd and Aliança have competitive and attractive customer value propositions, which we want to preserve and protect. We wish to maintain the personal touch and engagement they offer their customers," Skou said.
In the combined network, Hamburg Süd and Maersk Line's customers will have access to the dedicated end-to-end services provided by Hamburg Süd in the North – South trades as well as the flexibility and reach provided in Maersk Line's global network.
Furthermore, the combined network will enable Maersk Line to develop new products with more direct port calls and shorter transit times.
"Our combined network will provide exciting opportunities to develop new products and exploit operational synergies. Hamburg Süd and Maersk Line customers will benefit from more choice and better products," Skou said.
The acquisition will increase Maersk Line's container capacity to around 3.8m TEUs and an 18.6 per cent global capacity share. The combined fleet will consist of 741 container vessels with an average age of 8.7 years.