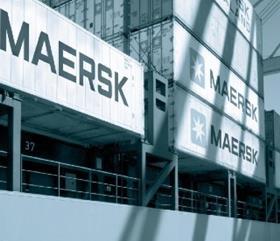 Danish conglomerate AP Moller-Maesk is to pare back investment in its shipping arm Maersk Line due to poor results and an oversupply of capacity in the sector.
The group's chief executive Nils Andersen told the Financial Times it would redirect investment into its oil, drilling rigs and ports divisions at the expense of Maersk Line - currently the world's largest container ship operator.
"We will move away from the shipping side of things and go towards the higher profit generators and more stable businesses," Andersen said. "What we are going to do over the next five years, we are not going to invest significant amounts in Maersk Line. We have sufficient capacity to grow in line with the market," he added.
"When we have taken that shift, probably more than 50 per cent of our capital will be tied up in these three other businesses. Maersk Line will then account for 25-30 per cent of capital. We will have four businesses of almost equal size."
According to the Financial Times, the move represents a significant change in tack for Maersk and reflects a frustration amongst senior management at the volatility of Maesk Line's earnings.
Last year the division recorded a net loss of US$540m while its oil business posted a profit of US$2.1bn and its drilling and ports divisions generated profits of US$500m and US$650m, respectively.
Analysts predict Maersk Line should post a modest profit in 2012, but the market is expected to remain volatile for the next three years.
The shipping industry is suffering from a massive oversupply of capacity with new tonnage still entering the market that was ordered largely during the boom years preceding 2008. A weak global economy is contributing to this problem.
"This year we don't expect the carriers to make money despite rate increases, and next year we also see the environment as very challenging," Neil Dekker, head of container research atLondon-based shipping consultancy,Drewry, told the newspaper.