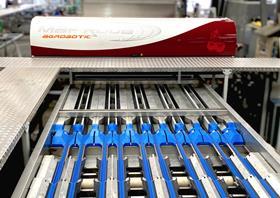 Grading and sorting company Maf Roda has launched a new cherry suite, combining Cherryway 4 and Cherryscan.
According to the group, the most important technical improvement in Cherryway 4 is a new and patented rotation system, described as 'a great novelty in the market, never seen before and manufactured exclusively by Maf Roda'.
The new system scans the surface of the fruit, preserving the stalk in its entirety. This rotation is done automatically without any mechanical adjustments. It also offers greater filling and production rates, Maf Roda said.
'The additional improvements of Cherryway 4 reduce the impact on the fruit along the line, which preserves the quality of the fruit,' the group continued. 'The transitions are considerably softer. There are spots along the line where the height has been decreased to 85mm. This is a big step forward in Maf Roda's commitment to maximising fruit care and preserving quality.'

Cherryscan has also been developed further to improve the performance and accuracy of the line.
Maf Roda noted that it now offers a simpler and more user-friendly interface, while its external analysis system has better accuracy in detecting defects in comparison with the previous version, thanks to enhanced vision of the cherries.
'We have tested the high effectiveness of the quality system of the grader,' said Spanish group Boluvero's general manager, Andrés Boluda. 'Thanks to the high level of parametrisation, the detection of a wide variety of defects and quality of the fruits is incredibly accurate.
'On the other hand, the patented rotation system of the bicones has proved to improve greatly the defect detection as it allows the visualisation of almost the complete fruit surface,' Boluda added.