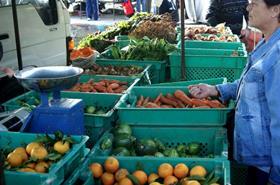 The value of fresh fruit and vegetables sold through Malta's five main wholesale markets reached €6.1m in the second quarter of this year, up by 14 per cent compared with the same period of 2012, according to new figures released by the country's National Statistics Office.
The volume of produce sold also rose, by 5.1 per cent year-on-year to 12,600 tonnes, with the most notable increases seen for potatoes (+23.1 per cent), tomatoes (+11.2 per cent), lettuce (+7.4 per cent) and cabbage (+10.6 per cent).
However, fresh fruit volumes were well down on the year (-26.6 per cent) following a downturn in supplies of strawberries (-32.2 per cent) and peaches (-17.5 per cent), although the wholesale value of fresh fruit reportedly increased by 19 per cent during the three months to €1.2m.
Mainland Maltese farmers are responsible for supplying more than 90 per cent of the fruit and vegetables sold at the nation's wholesale markets, with growers on the nearby island of Gozo – part of Malta – supplying the remainder.
Home to just 400,000 people, Malta is the EU's smallest member state and, aside from the recent development of market leader Lidl, there has very little in terms of food retail consolidation in the country.
According to figures released by Eurostat, while the majority of EU members states saw their retail sales fall in June, Malta registered the union's highest increase.
Compared with the previous month, Maltese retail trade was up 1.8 per cent, in contrast with a 0.5 per cent fall across the eurozone and a 0.3 per cent downturn across the then EU-27.