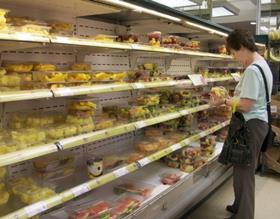 Marks and Spencer has this week started a new scheme with UK-based recycling firm Closed Loop to sell its salad boxes in exclusive recycled packaging, as part of a drive to cut the amount of waste packaging going to landfill.
The move is the latest stage of the retailer's use of packaging programme plan A, a way of cutting down on waste through greener products, according to International Supermarket News.
Chris Dow, managing director of Closed Loop, told The Times: 'We are really keen to make recycling as easy as possible and also prove that consumers' hard work recycling ends up in tangible products they can buy in store.'
Marks and Spencer's Food To Go salad boxes used over 50 per cent of recycled plastic last year, and the chain has reduced packaging used on products by 12 per cent since 2008.