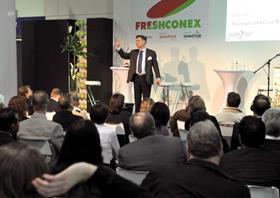 Freshconex 2012, Europe's only international meeting place for the fresh produce convenience sector, takes place in Berlin from 8-10 February 2012 and offers a comprehensive overview of the products and services in this dynamic growth market.
Fully integrated into the trade fair programme, the Freshconex Business Forum is a first-class information and discussion platform focusing on current industry trends. With sessions scheduled on all three days of the event, the forum offers excellent opportunities to share in-depth information and exchange ideas with guest speakers and international industry representatives.
'New opportunities in marketing for fresh produce convenience' is the key theme on the first day of the trade fair (8 February). In a series of half-hour presentations, international industry representatives focus on the market opportunities resulting from special marketing strategies in the fresh convenience sector.
In many European countries, including the UK, Italy and the Netherlands, fresh convenience products have become integrated into daily eating habits. In his presentation, Tony Walsh, category manager at Florette, talks about which markets still offer potential for the development of fresh produce convenience fresh products (New markets for fresh produce convenience products).
The Nordic markets are characterised by specific demands from fresh convenience product suppliers. International experts discuss what buyers in these countries expect and what consumers want (Market solutions for fresh produce convenience in Nordic markets).
Private label products play an important role for European food retailers. Peter Hostens, Managing Director at UNIVEG, shows how sales can be increased through the development of private label brands in the convenience category (Opportunities for developing the convenience category at retail).
A growing number of fresh convenience brands are being sold through non-traditional sales channels. In his presentation, Hans Liekens, out-of-home business development director at Chiquita Brands International, talks about the size of the potential gains in these new markets, the success stories taking place at the traditional retail level as a result of these new opportunities, and how consumers perceive and respond to the new purchasing options (Beyond retail: building your brand for a total consumer experience).
Other key topics at the Freshconex 2012 Business Forum include 'Food Safety' on 9 February and 'Technology and new product development' on 10 February.
The Freshconex Business Forum is staged in Hall 7.2b, and it is fully integrated into the exhibition area and included in the Freshconex admission price.