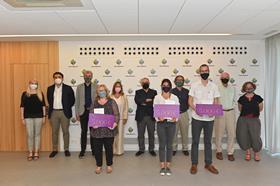 Mercabarna has announced the winners of the 2nd Paco Muñoz Awards recognising initiatives within the wholesale market to reduce food waste.
This year 12 nominations were submitted. Each of the three winners picked from three categories – the private sector, start-ups and the third sector –received a prize of €5,000.
The winner in the private sector was Catalonia-based supermarket Caprabo, which scooped the award for a scheme to minimise animal waste by collecting organic matter, such as meat and fish, that has passed its use-by date, and recycle it to obtain animal feed, soaps and biogas. The retailer said that since launching the scheme in May, it had saved 32.92 tonnes of CO2 emissions.
The start-up prize went to the Too Good To Go initiative, developed, according to its creators, "with the aim of inspiring and empowering people to avoid food waste."
It works by allowing users to connect with producers, restaurants, supermarkets, greengrocer and other food providers through a mobile app and buy their daily surplus of food at a reduced price.
Described as a win-win initiative, it allows businesses to cut food waste and minimise their financial losses and gives users the opportunity to buy high quality food at a lower price, while also benefiting the environment.
The app was launched in Copenhagen in 2016 and currently operates in 14 countries. Since being rolled out in Spain in 2018 it has attracted 3m users and 9,000 affiliated establishments, saving an estimated 3,000 tonnes of food and 7,000 tonnes of CO2.
Finally, the award for the best initiative in the third sector went to Nutrition Without Borders (Nutrición Sin Fronteras), a food sharing programme that has been operating in Catalonia since 2012.
Through a network of 81 collaborating restaurants and hotels, the programme has distributed more than 355,000kg of leftover cooked food to vulnerable groups, and saved 1,350 tonnes of CO2.
During the pandemic, when hotels and restaurants were forced to close, the programme focused on cultivating synergies with other parts of the food chain, such as supermarkets, food suppliers and food banks. This made it possible to distribute 152,000kg of food last year, more than double the previous year's total.
Presenting the awards, Mercabarna's general director, Jordi Valls, said: "Until recently, the purpose of Mercabarna was to guarantee the supply of food to citizens of Catalonia. Now we have the same commitment, but with zero impact on the environment".
The awards are named in posthumous tribute to Paco Muñoz, who spent his career fighting food waste both at the Autonomous University of Barcelona and at the Aprofitem els Aliments Platform.