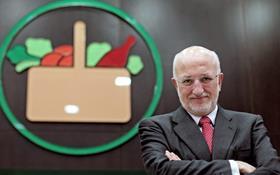 Mercadona made a profit of €727m in 2020, an increase of 17 per cent on the previous year. Turnover grew by 5 per cent to €26.93bn.
President Juan Roig said the figures reflected "the best management in the history of Mercadona, we have seen it in sales, opening, and profits, and we are very satisfied, and we want to continue in this line".
He highlighted the growth in the company's online business, which processed 1.21m orders worth €176m last year.
Mercadona closed 2020 with 1,621 stores (including 20 in Portugal) having opened 70 new stores and closed 65 during the course of the year. It accounts for a 15.5 per cent share of Spain's grocery market.
Roig praised the group's 93,300 employees, saying they had been "an example to society in exceptional moments".
He added that the company hoped to create an extra 1,600 jobs in 2021, with an expected growth of 3.7 per cent, taking turnover up to €27.85bn.
He acknowledges that 2021 and 2022 were going to be difficult years, with many uncertainties.
"You have to have great quality at the best possible price. Mercadona is going to enter the quality war," he said. "There are many uncertainties, but we are looking forward to it more than ever."