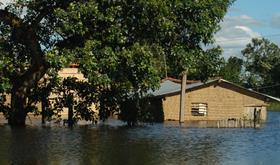 Up to 1,200ha of banana plantations in the southern Mexican state of Tabasco are reported to have affected by the latest series of floods to have hit the coastal region.
The flooding took place after heavy rains caused rivers in the state to burst their banks, with the total damage estimated by officials at more than US$727,000, according to Tabasco Hoy.
Tabasco is the second largest banana production region in Mexico, producing some 231,000 tonnes every year over 7,000ha.

The latest development comes in the wake of the devastating floods that the state suffered in August last year, which severely affected much of the region's banana production.

According to Mexico's agricultural department, flooding and drought have hit over 60,000ha of cultivated land in the country over the past year.