Sector aims to double exports to the EU, Middle East and Asia by 2030, says Aneberries president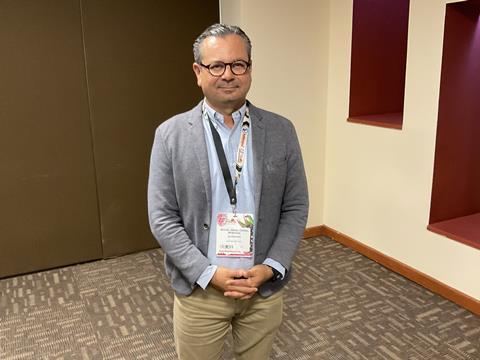 Mexican berry industry association Aneberries is intensifying efforts to diversify its export markets under the stewardship of its new president, Miguel Ángel Curiel. Setting out his roadmap for the future, Curiel says the goal of reducing Mexico's reliance on the US market will also see a renewed focus on developing national demand.
"The most recent trade data we have shows that between 97 and 98 per cent of Mexico's production of strawberries, raspberries, blackberries and blueberries, stays in North America. So, there is a maximum of 3 per cent that goes to Europe, the Middle East and Asia, mainly to Japan, Hong Kong, and Southeast Asia," he says.
He notes that "Europe is increasingly being supplied with production from Africa, be it blueberries from South Africa to strawberries, raspberries, blueberries and now blackberries from Morocco. And other African countries are also developing their blueberry production. In the long term, there will be that complementarity".
He believes Mexico could carve out a lucrative niche in the European market and that together, exports to the EU, Asia and the Middle East could account for 5 per cent of Mexico's overall shipments by 2030.
Curiel notes that Mexican blueberries have already successfully positioned themselves in Japan and the Middle East, and this could serve as a springboard for further Asian expansion.
"Again, I believe it is a niche opportunity, as we are competing with huge suppliers like Chile and Peru. But the Mexican window is moving more towards spring, which presents us with a good export opportunity," he says.
Elsewhere, Curiel sees the rapid expansion on China's domestic berry production as a sign that consumption will continue to grow.
"The next frontier is India, where companies are already jostling for position," he says. "I believe there is an opportunity there for Mexico once we manage to remove the tariff barriers that exist, which put us at a disadvantage compared to other supply countries. We have already overcome the phytosanitary obstacles when it comes to supplying India and must now do the same with the tariff obstacles.
Closer to home, Curiel acknowledges that Mexico must strengthen its position in the North American market by providing a high-quality product and excellent service at a competitive cost. This includes developing the domestic market by making berries more accessible to Mexican consumers.