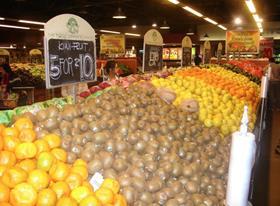 South African retailer Food Lover's Market has raised enough money to buy more than one million meals for struggling South Africans. They have done so with the help of South African fruit and vegetable companies.
Food Lover's Market, one of South Africa's leading fresh produce retailers, launched its Hunger Month programme, an extension of World Hunger Day, in 2017. It is now in its fourth consecutive year, with over 2.9m meals provided.

Leading apple marketer Tru-Cape Fruit Marketing, tomato producer ZZ2, Westfalia Fruit, Simpl Juice and Crestshelf Potatoes have joined in the programme.

'The Hunger Month initiative has grown to be the success it is today because of the generosity of our partners and our customers,' said Kate Marais, CSI manager for the Food Lover's Market Group.
'Since the inception of this campaign in 2017, Food Lover's Market has donated almost 3m meals through the Hunger Month campaign alone, all of which would not have been made possible without the support from our wonderful partners,' Marais continued. 'We welcome the fact that several major South African retailers have also initiated their own campaigns to raise an equal number of meals for the vulnerable."
Andy Du Plessis, managing director of FoodForwardSA, said his group was privileged to have generous partners such as Food Lover's Market, their customers and supply-chain partners, to help the organisation achieve its vision of a South Africa without hunger.
"It is heartwarming to see how this campaign has grown over the four years, now raising enough funds to provide 1m meals. These funds will be allocated to reaching more vulnerable people over the cold winter months.'
Roelf Pienaar, Tru-Cape managing director, said the company had supported Hunger Month for a number of years. "In 2020, with the impact of Covid-19, the need seemed that much greater."