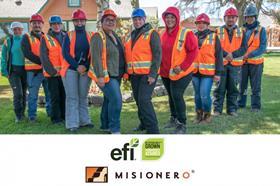 California-based organic leafy salad specialist Misionero has announced its Gonzales facility has received Equitable Food Initiative (EFI) certification.
According to the company, this makes the Gonzales facility the first processing-only facility to be certified in the US, and the first EFI-certified operation located in the Salinas Valley. Misionero's Yuma, AZ facility is also in process of certification.

To acquire the EFI certification, Misionero received leadership and skill development training, as well as an audit by a third-party certifying body.
Misionero is now cooperating with its growing partners to bring the first EFI-labeled leafy greens into the marketplace.

Pete Donlon, vice-president at Misionero, has been involved with EFI since its inception in 2015, and serves on the EFI standards committee.
EFI certification holds the most rigorous standards in the industry for labour practices, food safety and pest management to create a more transparent food chain, grow safer food, and develop healthier places of work.
"At Misionero, we're constantly working to build and maintain a company culture focused on our employees and customers," said Donlon. "We could not be more proud of what has been accomplished. Our EFI leadership team is the key to meeting the EFI requirements, as well as ensuring we operate as a cohesive group, tackle issues head-on and live the standards every day.'
"Misionero has proven its leadership and dedication to its organization and industry by becoming the first EFI certified operation in the California Salinas Valley – the salad bowl of the world," said Kenton Harmer, director of certification for EFI. "Achieving EFI certification proves the commitment of both Misionero and its staff. The ability to work together to meet the industry's most rigorous standards is a testament to the collaborative culture they've built."