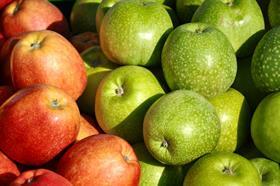 The World Apple and Pear Association (WAPA) outlined the first topfruit forecast of the 2017 Southern Hemisphere season during its AGM, which took place on Friday 10 February at Fruit Logistica in Berlin.
Collected from industry associations in Argentina, Australia, Brazil, Chile, New Zealand and South Africa, the forecast showed that the 2017 Southern Hemisphere apple and pear crops are expected to reach 5.43m tonnes and 1.34m tonnes respectively.
For apples, this represents a production increase of 9 per cent on the 2016 crop, mainly because of a normalised crop again in Brazil, with predicted export figures remaining stable at 1.67m tonnes.
In terms of varieties, Fuji and Gala are set to grow 17 per cent and 16 per cent respectively to 748,000 tonnes and just over 2m tonnes, while there will be year-on-year decreases in Cripps Pink and Red Delicious.
For pears, a decrease of 2 per cent on the 2016 crop is expected, while forecasted export figures are expected to decrease 6 per cent to 656,479 tonnes.
Volumes of Williams BC are expected to drop 6 per cent on 2016 to 400,000 tonnes, while Packham's numbers should rise 2 per cent to 462,000 tonnes.
Graphics: WAPA