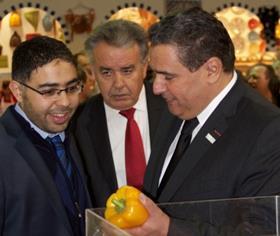 A sizeable delegation of Moroccan fruit and vegetable exporters were present this week at the seventy-eighth edition of International Green Week in Berlin, as the country stepped up its promotional efforts in Europe under the theme 'Morocco visits Europe'.
Morocco's unified presence at the exhibition was combined with a Moroccan-German forum chaired by Moroccan minister of agriculture Aziz Akhannouch, aimed at further strengthening bilateral co-operation.
"We want to accelerate relations between our two countries," he said. "This is what we decided with the German minister, particularly with regard to agriculture. Morocco wants to serve this market, which is very demanding when it comes to quality standards."
This is one area in which the country has seen its reputation soar, aided by the Green Morocco Plan, which was launched in 2008 to put agriculture at the centre of development in Morocco.
"We are investing in agriculture, improving profitability and stimulating investment," said Akhannouch. "We have made a lot of reforms to increase food safety. We must work together to increase productivity. We are also improving logistics, including developments at Tanger Med and Casablanca, which will help to keep our produce in good condition."
Asked about the concerns of certain EU members about the free trade agreement that recently came into effect between the EU and Morocco, the minister said that these worries would diminish with more understanding.
"What French and Spanish producers don't understand is that this is not a new agreement, but a renewal," he explained. "We have been working with the EU for years. We need to bring together Moroccan and European producers to discuss the issue. Our aim is not to destroy value, but to create it."
Akhannouch added that the country was currently seeking to diversify both its products and its export markets. "We want to develop our exports to countries like the US, Canada, Russia and Asia," he said. "This will certainly lighten the pressure on the European market."