The shipping company says growing European demand for African fruit and vegetables is an opportunity for economic growth all over Africa
Africa's fruit industry is currently booming, and Europe's growing demand for the continent's fresh produce provides major economic opportunities for African countries, according to MSC, the leading shipping company from Africa to European countries.
MSC said it aimed to be a key driver in a "fruitful partnership" between the continents of Africa and Europe. Europe imported around 2.7m tonnes of fresh fruit from Africa in 2020, with a total value of €2.5bn.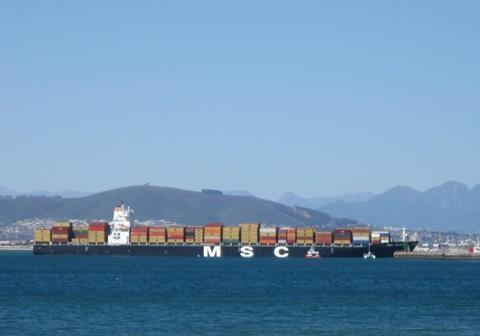 "Not only do these tropical fruits bring in valuable foreign exchange, they provide jobs for farmers and their families throughout the value chain, from farming and harvesting to processing, transportation and marketing," MSC stated.
In addition, the fruit industry helps to build better roads and transportation systems, it continued, thereby assisting the local economy.
"With good shipping and exporting, countries like Zimbabwe, Kenya, Tanzania, Senegal and Côte d'Ivoire can easily sell their fruits to Europe and make more money for their farmers and their families," the company said.
Annick Okeni, import and export reefer manager at MSC Côte d'Ivoire, commented:"Here in Côte d'Ivoire, we are one of the big players in the African fruit industry, with mangoes and bananas accounting for a whopping 84 per cent of their fruit exports. Thanks to improved infrastructure and increased investment in the sector, the quality and quantity of the country's fruit exports have increased, making them a reliable supplier for Europe's fruit market."
Senegal is another big player, MSC said, with a focus on sustainable production and improved supply chain management.
"The fruit industry has doubled its exports in four years and their operators are finding ways to integrate with new distribution channels as a result of market globalisation," said Caroline Diagne, trade coordinator at MSC. "Senegal produces a variety of fruits including mangoes, bananas, citrus and papayas, and have become a competitive player in the European fruit market."
Patrick Malanga, marketing manager at MSC Kenya, highlighted Kenya's importance to Europe and the Middle East for a broad variety of fruits, including pineapples, avocados, mangoes and bananas.
MSC said it provided comprehensive packages, including local knowledge, suitable reefer equipment and competitive inland transport, to support the industry.
In Tanzania, the rehabilitation of Dar es Salaam port is expected to benefit fresh produce in the country. "Tanzania's fruit industry has been flourishing in recent years, with avocado and pineapples being the leading exports, along with mangoes, oranges, lemons and bananas," said Paskal Madede, sales manager at MSC Tanzania.
In Zimbabwe, the fruit industry is also growing fast, MSC said, with the focus being on avocados, lychees, pineapples, bananas and oranges, mostly for the local market but increasingly for the Middle East.
"Zimbabwe exports blueberries and peas to European markets, and although Zimbabwe is a landlocked country, it has fruits like oranges and avocados being hauled into South Africa for onward freight to the Far East, Europe and the Middle East," says Phumzile Ntshingila, commercial manager at MSC Zimbabwe. "Zimbabwe's producers are optimistic as more businesses invest in fruit and vegetable production for export."