South Africa, in its struggle to expand markets, does have opportunities in Africa
Africa continues to move to the implementation of its much-publicised free trade agreements but substantial behind the scenes work is still required to make a meaningful impact on trade in general on the continent, and specifically on the South Africa fresh produce export trade.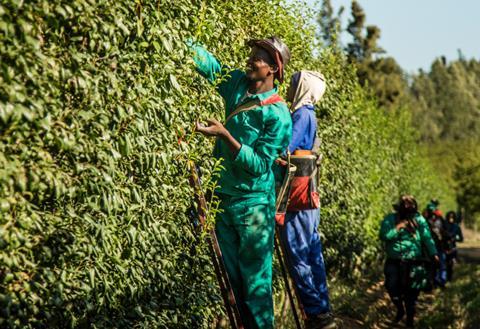 Of the fruit categories only South African apples have managed to significantly penetrate Africa in what has been a steady market development campaign over the past two to three decades.
This has been mostly led by entrepreneurial traders who were able to overcome significant logistical and other trade challenges such as import duties.
This year the pear industry also saw its trade with Africa developing further and pears is one category which holds promise for the future. Sales of South African grapes in Africa are still low, but show some promise of further growth.
In the light of recent challenges in some markets of the world, it can be expected that Africa may now become more of a focal point for South African fruit exporters than in the past.
Wolfe Braud, fruitdesk manager at Agbiz in South Africa, recently told the Hortgro newsletter that If two African trade agreements currently nearing completion can address challenges and barriers to trade, companies could benefit from a larger playing field.
These trade agreements are the African Continental Free Trade Agreement (AfCFTA) and the Tripartite Free Trade Agreement (TFTA).
The AfCFTA covers the entire African continent (although Eritrea has not signed on) and has 54 signatory states, making it the largest in the world.
The TFTA comprises three existing trade blocs – the East African Community (EAC), the Southern African Development Community (SADC) and the Common Market for Eastern and Southern Africa (COMESA) with a total of nearly 30 signatory states.
Braud said the South African government had shown a determination to play a bigger role in the African market. "This will hopefully translate into an opportunity for agricultural exports," he noted.
To make this a reality, however, the South African government will have to provide effective and comprehensive trade facilitation support for fruit exporters, in order to convince them to diversify away from traditional markets.
The Department of Agriculture, Land Reform and Rural Development (DALRAD) has identified Morocco, Algeria, Libya, Ghana, Guinea, Kenya and Burkina Faso as potential new markets under AfCFTA, he outlined.
"While sufficient states have ratified the AfCFTA to make it operational once all outstanding issues are resolved, the TFTA still requires three additional ratifications, with Lesotho being one of them."
It is not all plain sailing for South African exporters as they contemplate their future in these markets.
It has been revealed that South African fruit exporters will now face higher tariffs in East Africa due to the implementation of a new fourth tariff band of 35 per cent by the East African Community.
"However, once the AfCFTA and TFTA come into effect, fruit exporters will be allowed to trade at the lower tariffs which will apply under these agreements, as these negotiated Free Trade Area tariffs will overrule the unilaterally imposed EAC 35 per cent band," explained Braude.
It has also been revealed that vegetable exporters are in dispute with neighbours Namibia and Botswana, which banned imports of a range of vegetables, including tomatoes, potatoes, beetroot, cabbage, and sweet peppers from South Africa.
This is now being contested by the South Africa organisation AgriForum, which has asked the country's authorities to intervene.
At the same time South African border officials have in the past been accused of unfair treatment in the clearing of fruit and vegetables from neighbouring countries.
After several years of disputes and delay Tanzanian avocados were only granted access to the South African market this season.
Much will have to come to pass before the new envisaged trade agreements with effectively operate in Africa.