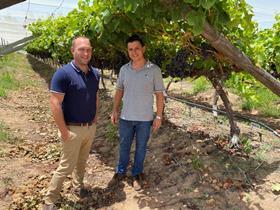 Rob Meihuizen, managing director of South Africa-based TopFruit, has announced the appointment of Hein Coetzee as the company's new chief operating officer.
"TopFruit has seen significantly strong growth in our existing business over recent years," said Meihuizen. "The new position of COO has been created to assist in continuing to develop the success of the five key divisions in TopFruit, namely pome, table grapes, stonefruit, kiwifruit and blueberries."
According to Meihuizen, Coetzee took up his new position this month. "His major responsibility will be to organically grow the business units to reach their full potential. He will focus attention on TopFruit's existing successful business units, while supporting me in developing related opportunities in the industry.'
Coetzee has recently served in technical and commercial roles at Green Marketing, Dole and Tru-Cape, where he was responsible for fruit exports to Europe and Russia. "He comes to TopFruit with a wealth of experience and knowledge of the South African fruit industry,' he outlined.
Meihuizen also announced the appointment of Etienne Duvenage as the company's new financial director. "In line with the growth in TopFruit, the TopFruit shareholders and board are announcing the appointment of Mr Duvenage as Financial Director.'
Duvenage recently completed his MBA at Stellenbosch University, and has been with TopFruit in the position of financial manager for the past seven years.
"He fulfils a vital responsibility in his appointment to the board and will be a significant contributor to maximise new and existing opportunities available to TopFruit in the future," Meihuizen concluded.