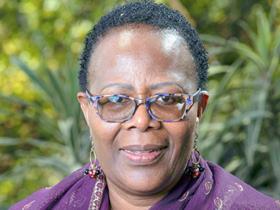 Vangile Titi-Msumza, who has served South African agriculture for a considerable time in the US and also played a pivotal role in gaining access to China for South African citrus, is the new chairperson of Fruit South Africa.
She replaces Justin Chadwick, CEO of the Citrus Growers' Association, who has come to the end of his term at the umbrella body, under which a range of initiatives are coordinated.
Titi-Msumza said that market access and transformation issues would be the leading items at the top of the agenda during her term as chairperson.
She is well qualified for the task having previously been deputy director general at DALRRD, the country's Department of Agriculture, Forestry and Fisheries. During this period she spent a considerable period of time as representative in Washington.
"Rewarding for me was that during this time I was able to assist in ensuring that South Africa remains part of the African Growth and Opportunities Act and we also managed to open more ports for direct shipments of South African citrus fruit to the USA,' Titi-Msumza continued. 'I also worked closely with the industry in the Western Cape and this gave me a good understanding of what is expected in the years ahead."
Several South African fruit sectors are in a period of steep growth and the country will need to use all its expertise to develop more opportunities in new markets.
"Covid-19 has changed the way in which we operate and it is challenging to maintain our momentum,' she confirmed. 'However there are also new opportunities developing and this we have to use very wisely."
Anton Kruger, CEO of the Fresh Produce Exporters' Forum (FPEF) is the new vice chair of Fruit SA.
In a statement, Fruit SA said that the appointments would propel Fruit SA even further towards its market access and transformation objectives, as well as maintaining its focus on strengthening collaboration with government.
Titi-Msumza said she looked forward to continuing her leadership role in Fruit SA at a time when the industry was in dire need of progressive, agile leadership to take the industry transformation agenda to new heights.
This will enable the industries to increase their contribution to economic growth and job creation.
Anton Kruger said Fruit SA had evolved and developed during the past couple of years to be recognised as the combined voice of the South African fruit industry.
"The industry is resilient and solution-driven and it remains a privilege to be part of it,' he said.
The fruit sector was a significant contributor to South Africa's gross domestic product and therefore the food security of the country, Kruger pointed out.
Fruit SA now has six members after Berries ZA joined the organisation in December 2020.