New washing technology at group's Limpopa-based packhouse is already paying dividends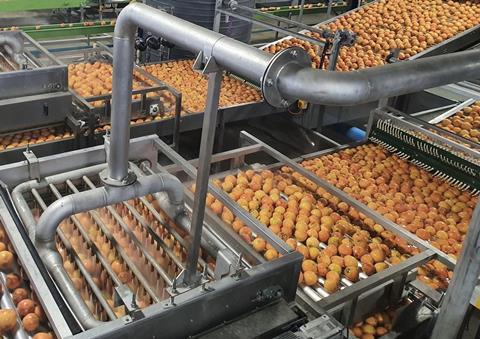 Jupiter Group has said that it is continuing to harvest and pack Star Ruby grapefruit from its Limpopo-based farms in South Africa, with newly installed technology at its packhouse "already paying dividends".
The group has overseen the installation of a new high pressure wash system for the 2022 season to add to its Greefa SmartSort and Wetline, installed in 2019.
"We're very pleased to have our new wash system installed," said Jupiter Group's head of farming SA Kobus Botha. "The new process will enable our teams to clean debris even more effectively which will in-turn further increase our percentage of packable fruit and also improve the presentation of our citrus too."
Jupiter's head of sales Gareth Wilcock said he was pleased with the 2022 grapefruit season so far.
"We are impressed with both the yield and the quality that our team are packing in South Africa," he confirmed. The fruit looks much improved from 2021 and we are delighted to be packing to export globally.
"Not only focusing on Star Ruby grapefruit, we're also looking ahead to our upcoming Valencia orange harvest in just two short weeks," he outlined. "Reports from the farm are extremely positive in terms of quality so we look forward to providing them to our global client base."
2021's logistical challenges in South Africa have "provided an opportunity for new, robust contingency plans to be embedded for the season ahead", according to Wilcock.
"Our specialist logistics partnerships allow us to find solutions to in-country challenges throughout the supply-chain, from farm right through to loading at port.
"With our own volume alongside our Growing Together partner volume we have been able to negotiate favourable rates on essential farming and packing materials to counter-act the rapidly rising costs that the market are experiencing," he added.