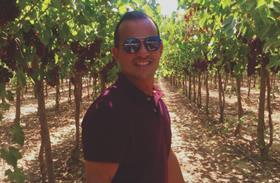 How is the grape season going in Egypt? Were preparations affected by the Covid-19 crisis?
Hassan Zaher: The season has been a bit of a tricky one, arriving as the situation with Covid-19 was developing in Europe. Planning prior to the season hinged on many factors that were out of our control, such as sudden border closures or legal and logistical challenges. The season itself started a bit later than expected and was also affected by the Eid holiday at the end of Ramadan. Port closures and holidays caused further delays at the beginning of the season. But with the first arrivals we became aware that there was strong demand in Europe for good quality grapes, as the Indian season concluded with some poor-quality fruit. We expect a good season this year given the shortage in production in Egypt.
How is everything looking in terms of volumes and quality? Was the weather OK?
HZ: Quantities are lower than last year, especially for red varieties like Flame, mainly due to the weather conditions, which faltered drastically in the build-up to the harvest. We experienced prolonged days of high temperatures and wind, as well as heavy rain at a pivotal point in the fruit's development. White grapes were less affected. Sizes tend to be on the larger side. Sugar development was slow, which is one of the factors that prompted a further delay to the season.
What are the main grape varieties you're exporting?
HZ: For the early season we export white varieties like Prime and Sugraone and red varieties like Flame. For the late season, we export Arra 15 (white), Crimson, Vintage Red, Fire Star and Red Globe (red), and Autumn Royal and Inia 1 (black). Investments in new varieties and new cultivation methods are being made in Egypt, but more is needed in the post-harvest, packing and cooling side.
At EGO, we are starting to fully realise our cooperative concept, which was the initial vision set forth by the company. We are working closely with nurseries, farms and packhouses to investigate new varieties, conduct trials to export some of them, and trial different methods for harvesting and cooling to ensure better shelf-life and transportability.
Which markets are you targeting? Any new ones you are looking at?
HZ: We mainly target the European, South African and Asian markets. We are looking to develop the Canadian, US, Brazilian and African markets. We see a lot of potential to explore these new markets, especially as Egypt signs protocols of cooperation to open up these opportunities.
How is the Chinese market developing for grapes?
HZ: The Chinese market has been open for Egyptian grapes for a couple of years now. It has been slowly developing and proven a more difficult market to access. This is partly due to a large volume of Egyptian grape exports being pre-ordered for European supermarket programmes. Also, the Chinese market requires very different varieties than the ones typically cultivated in Egypt. In short, it will take time to develop, but the opportunity is definitely there and some companies have begun slowly expanding their reach there.

How has the Covid-19 crisis affected business, especially in terms of labour availability and logistics?
HZ: The situation with Covid-19 was a big concern coming into the season. Egypt had started introducing lockdown restrictions, including curfews, which made organising labour difficult. Our sector received certain exemptions, but it still caused many issues. This was further compounded by worries about the spread of the disease, given the amount of labour working in close proximity. We took multiple precautions to guarantee the hygiene and safety of our workers.
Regarding logistics, there was a lot of concern at the beginning of the season. However, as things progressed, we have not experienced any delays or issues with container arrivals.

What other challenges are you facing?
HZ: The main challenge we face in Egypt is the narrowing window of opportunity. As India's season extends later and Spain's earlier, we find ourselves working with just a two- to three-week window of supply into Europe, which puts pressure on the industry. We need to develop new markets faster and we also need to impose ourselves more forcefully in the markets we already supply to. We can do that by introducing new in-demand varieties, as well as improving logistics channels and transport times to better compete with our rivals.

Is climate change a worry? Is sustainability an increasingly important consideration at the company?
HZ: At EGO, climate change is not our biggest concern, as we are structured in a flexible way, working with farms from the north to the south of Egypt. As the climate gets hotter, farms in the south are finding it more difficult to cope, but farms in the north are expanding. There is still plenty of untapped potential and land in Egypt, and as the government introduces new projects and improves the infrastructure, more land is becoming accessible for agricultural use.
Sustainability is the key to success at the end of the day, especially being a cooperative. We have to rely on a steady, strong base of farms and constantly expand that to meet the demands of our clients abroad. We must constantly introduce new varieties and products in order to be proactive in the market, rather than depending on what's currently available and reacting too late, as many in our industry do.