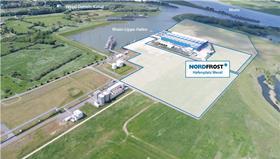 German deep-freeze logistics company Nordfrost is set to almost double the size of its site to nine hectares at the Rhine-Lippe Port in Wesel,North Rhine-Westphalia.
The company from Schortens near Wilhelmshaven is becoming an important partner of the "Cool Corridor" for the climate-friendly transport of temperature-controlled goods between Rotterdam and Wesel on the Rhine, rather than by road.
Nordfrost is investing a total of €46 million in the expansion, with work already underway to upgrade the quay.
A new crane runway is being laid to operate a container bridge for ship handling, and a deep-freeze store, loading halls and new warehouses are being built for goods in the plus-grade temperature range and general cargo.
In future, there is the option to expand the Nordfrost site at Wesel to a total of around 16 hectares.
The logistics specialist will start handling container ships and operating a full-service container depot from spring 2021. The logistics centre is scheduled to begin operations at the beginning of 2023, with around 60 new jobs being created.
'We are delighted that Nordfrost has taken the next step with us towards a modern, intercontinental import and export hub,' said Andreas Stolte, managing director of DeltaPort Niederrheinhäfen.
Nordfrost chief executives Dr Falk Bartels and Britta Bartels added: 'Our goal in Wesel is to offer logistics for all goods – including project loading – and at the same time to build this port location as a further food hub, comparable to our development in the Wilhelmshaven container port."
The investment is aimed at offering the German food industry solutions for handling the growing trade volume with third countries. For example, the handling of frozen and fresh products in Rotterdam – which is connected to the Rhine-Lippe Port in Wesel – has increased by around 18 percent in the past three years.
Currently, temperature-controlled containers that land in Rotterdam by seagoing ship are usually unloaded in Dutch refrigeration centres. The goods are then brought to their inland destinations by road in refrigerated lorries.
The 'Cool Corridor', which is being established between DeltaPort Niederrheinhäfen – which comprises the ports of Rheinberg-Orsoy, Voerde, Wesel and Emmerich – and the Port of Rotterdam, will change that.
'Our goal is to optimise this usual supply chain from an environmental point of view and to redesign the flow of goods from a sustainability perspective,' said Stolte.
In future, refrigerated containers will be transported inland via waterways or rail in order to relieve congestion on the motorways.