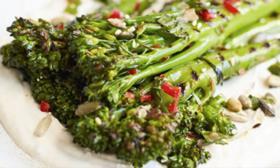 Bimi, the brand name for Tenderstem broccoli in continental Europe, is confident of reaching millions of new consumers through its online promotions, activities and partnerships, not least after popular German weekly magazineSternrecently namedBimithe number one superfood to try.
Bimi has started a new partnership with online cooking and recipe-sharing community Das Kochrezept, whose website serves as a daily source of inspiration, providing food lovers with cooking ideas and over87,000 recipes, videos, articles and tips.
The partnership is set to promote the variety of cooking methods and meals involving Bimi broccoli, offering users the opportunity to share, swap and discoverthe vegetable's benefits.
Thanks to native recipe displays and sponsorship of ingredients, the media package is expected to generate 350,000 impressions on the site, as well as reaching Das Kochrezept's 101,000 newsletter subscribers.
This is just the latest in a flurry of online initiatives from Bimi. In April, the first pan-European consumer newsletter was distributed, opening with a competition for three peoplefrom each countryto win a Le Creuset casserole dish.
In Spain, which was hit hard by Covid-19, the Sakata team has been making deliveries of Bimi, produced by Grupo Lucas, to Valencia's LaFe Hospital for Covid-19 patients' daily menu.
Meanwhile, the #EnseñameTuNevera campaign, encouraging Bimi Spain social media followers to post an image of their healthy fridgeto win akitchen mixer, apparently reachedan estimated 3m people, including key nutritionists and food influencers.
Finally, in support of a recent price promotion at Dutch organic retailerEkoplaza, Bimi also used geo-targeting to alert those with an interest in healthy food and organics, reportedly with extremely positive results.
'The social media advertising campaign reached over 285,000 people with over 154,000 people watching the video,' the company said. 'The ads also generated lots of encouraging comments about trying a healthy new vegetable, especially during these uncertain times.'