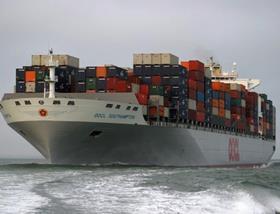 Shipping giant OOCL's parent company Orient Overseas International Limited (OOIL) has posted a loss of US$15.3m over the first half of 2013.
The result is a stark contrast to the US$116.5m profit the company reported over the corresponding period last year.
OOIL chairman CC Tung confirmed OOCL's liftings had also decreased 1.5 per cent in the six months to June 30 2013, attributing the fall to weak cargo growth, capacity oversupply and high bunker costs.
"Market growth across major trades grew only by approximately 2.2 per cent during the first half of 2013," Tung said.
"The operating environment in the first half of 2013 was characterised by the deterioration of freight rates from the last quarter of 2012, especially on the Asia-Europe trade, and the extremely competitive freight rates recorded in both the trans-Pacific trade and the intra-Asia trade.
'A series of rate increases during the second quarter in the market on the East West trades generally could not be sustained.
"These factors culminated in a disappointing first half for the group."
Tung also revealed OOIL's operating profit decreased to US$3m, while OOCL's freight revenue per twenty-foot equivalent unit was down 2.2 per cent.
Meanwhile, OOCL has launched a new South East Asian service between Vietnam, Thailand and Malaysia, operating from 11 August.
The service will be jointly operated by Golden Sea Shipping and Gold Star Line, and will include calls at Ho Chi Minh, Port Kelang, Pasir Gudang, Bangkok and Laem Chabang.