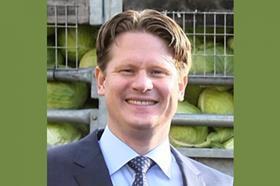 OptiFreeze, a Swedish company specialising in freezing technology that enables the structural integrity of fruit and vegetables to be preserved after thawing, has appointed Nick Kramer as its new chief executive following the announcement that Fredrik Westman is to step down on 10 April.
A spokesperson for the group said Kramer offered a commercial background with many years' experience in the processed fruit and vegetable market.
Most recently he worked as managing director of Dutch company Royal Vezet, one of the world's largest fruit and vegetable processing companies and a leading supplier of fresh-cut produce, salads, prepared meals and pizzas.
He has previously also worked with another Dutch fresh-cut vegetable company, Tuinderij Vers; Vidinge Grönt, one of Scandinavia's largest fresh-cut vegetable processing companies; Norwegian fresh-cut vegetable processor Klar; and G Kramer & Zonen, market leader in the Dutch, Belgian and Swedish sauerkraut market.
That experience will be needed as his new employer begins selling its patented technology, the company noted.
"I am very excited to take on the CEO position as I believe in the business potential of OptiFreeze's solutions," Kramer commented. "The solutions can improve taste and reduce waste, which is greatly appreciated by future customers and consumers."
He said he also believed that OptiFreeze technology could be a game-changer in the food industry.
"I would like to thank my predecessor Fredrik Westman and his team for all their hard work in the previous years. It is a privilege to be appointed as new CEO, and my main occupation will be to sell the OptiFreeze solutions."
Once sales of the technology begin, the focus for Kramer will be on developing potential markets and customers.
"Although some further research is needed in some application areas, I have seen that the OptiFreeze solutions are almost ready to implement in some other areas, especially in the fresh-cut industry."
Board chairman Göran Hedbys added: "I am very pleased to announce that we have been able to get Nick on board. His commercial profile and knowledge of relevant markets is exactly what we need to take OptiFreeze to the next level. Together with the OptiFreeze team, we now have a balanced mix of technical expertise and sales drive."