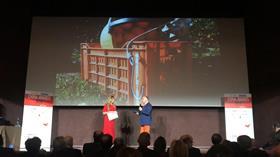 Leading Italian citrus exporter Oranfrizer has won the China Elite Capital Award in recognition of its success in breaking into the Chinese citrus market.
The company's CEO Nello Alba picked up the prize, awarded by the Italo-Chinese Foundation and Milan Finanza, at a ceremony at the Leonarddo da Vinci National Museum of Science and Technology in Milan.
Family-owned Oranfrizer is one of Italy's best-known citrus companies, growing and supplying a range of varieties and juices grown in the fertile lands surrounding Sicily's Mount Etna volcano. Blood oranges such as Moro, Tarocco and Sanguinello make up the core of its offer, which also includes mandarins.
"Oranfrizer's view of the entire supply chain is constant: each fruit is followed at all stages of production to guarantee high quality," the company said in a press release.
"Although Italy is our main market, the company has a global soul and we export our citrus fruits and juices to Europe, North America and the Far East."
Earlier this year the company successfully shipped its first consignment of Italian red oranges to China by sea.
"This award greatly encourages us to continue our exports to this market and we expect to increase our volumes in 2020," the company said.