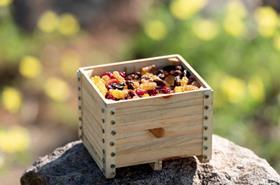 Raisin growers along South Africa's Orange River region are counting the cost of heavy rains and floods as their season starts winding down.
While the true picture is expected to emerge in some weeks, Raisin South Africa CEO Ferdie Botha said that it is calculated the industry had lost between 18,000 tonnes and 20,000 tonnes as a result.
"It is estimated that our total production will reach between 53,000 and 54,000 tonnes instead of the pre-season estimate of around 75,000 tonnes,' he confirmed.
South Africa was expected to harvest 86,000 tonnes, including around 11,000 tonnes sourced from the Olifants River region.
Sultanas are heavily affected and this will result in the gold category being some 50 per cent down. The losses may well have long-term implicatons for the industry, which has had to deal with a number of factors as it prepares for the future.
Botha pointed out that growers recently had to deal with a 16.7 per cent increase in the minimum wage paid to workers and electricity costs increased steeply, while global raisin prices have not yet recovered to pre-2017 levels.
Raisin South Africa is now engaged with various interested parties to inform them of the industry situation.
"Growers are allowed to make representations to the government regarding the minimum wage and we are briefing financial institutions where we can to assist growers,' said Botha. 'We will only know some months down the line what the real impact will be."
Responding to a question on how South African losses would affect the world raisin market, he pointed out that the crop in the US was also significantly down on the previous year, from 230,000 tonnes to 180,000 tonnes.
"Chile is also reported to have losses due to rain. In all we expect around 100,000 tonnes less on the world market this year."
This means that global supply could be reduced by around 18 per cent. "Perhaps this will also mean that the world price will show an upward trend in the months ahead,' Botha added.