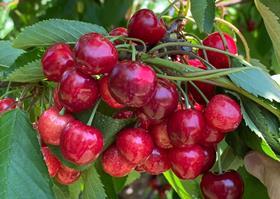 Fresh produce supplier Oppy has said that it is 'excited' to bring the Orchard View cherry brand to domestic and international markets, highlighting an 'extraordinary crop' this year that 'promises incomparable quality'.
Oppy explained that an 'exceptional' growing season meant that it was expecting high-quality cherries from the Pacific Northwest.
The California season is expected to wrap up in the beginning of June, before transitioning to Northwest cherries, which will begin harvesting within that timeframe.
"We've seen many excellent Orchard View cherry crops over the years, but this one is shaping up to be truly superb,' said Oppy's senior vice-president of categories and marketing James Milne. 'Season in and season out, we've found that consumers truly appreciate their excellent flavour profile, and rightfully so – no other fruit can really provide this unique combination of taste and texture. This is why it retains a wide-spread national appeal, as well as high-interest from key export markets around the world.
"Cherries have always been so intimately tied to a celebratory summer spirit, and this year people are certainly looking forward to it,' he added.
The brand's 'Pick Your Moments' positioning, initially launched in 2016 to much industry enthusiasm, highlights the importance of savouring the special moments in life that are so often taken for granted – a message that Oppy feels will resonates with consumers now more than ever.
"We're incredibly happy with how the growing season turned out this year,' said Orchard View president Brenda Thomas. 'The quality is truly spectacular and is in line with what people expect from the Orchard View brand. We are already seeing great consistency and uniformity in color and shape, meaning the crop is just top-notch."