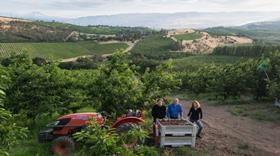 Oregon-based Orchard View Cherries has wrapped up a record cherry campaign, and reflected on a positive 2019 season.
"This was our largest volume year ever," said Brenda Thomas, president of Orchard View Cherries. "But the defining moment was that we had consistently phenomenal quality.
'Because temperatures were quite moderate, the sugars were able to develop more fully, making for very sweet cherries,' Thomas noted. 'This allowed us to have less stressful days so that we could enjoy the wins that much more."
Orchard View also celebrated the tenth anniversary of its partnership with exclusive marketer Oppy.
"We're thrilled to be toasting to our union alongside a record volume increase of 10 per cent – it truly was a 10/10 year," said Oppy's senior vice-president, categories & marketing, James Milne.
"It's been a great partnership because we all work so well together,' Thomas added. 'We're lucky to have commemorated multiple milestones all in one fantastic year.'
Another milestone on the horizon is Orchard View's 100-year anniversary, which is quickly approaching in 2023.
"We can't wait for the day we get to say our fresh cherries have been enjoyed around the globe for over 100 years," Thomas said.
"We're not necessarily seeking out a certain taste in a cherry but rather one that fully embodies the characteristics of a cherry everyone looks for—a bright exterior, plump, juicy and sweet interior and bright stem,' she added. 'We hope to celebrate our anniversary with the cherry of the future."