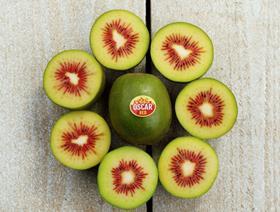 Following the successful development of its Oscar Gold kiwifruit, French marketer Primland is continuing its varietal innovation approach with the launch of Oscar Red Kiwi Passion.
According to the company, this red kiwifruit is sweet and less acidic than the green variety, with hints of tropical flavours such as passion fruit or pomegranate.
It is hoped that the new variety will encourage new consumers to discover kiwifruit and its nutritional benefits. Oscar Red will be sold in 3kg trays and in punnets of four or six fruit.
'This segmentation into green, gold and red contributes to market awareness of the Oscar brand, which will continue to be promoted at points of sale,' Primland stated.
To showcase the range, Primland is developing its Oscar.kiwi website, which has seen strong growth in visitor numbers, according to the company.