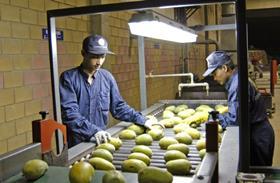 The Pakistan government has made hot water treatment compulsory for mangoes destined for the EU to avoid being barred from the market, reports Pakistan website www.dawn.com.
The decision to implement this treatment, which eliminates fruit flies, was made at a meeting between the Pakistan Fruit and Vegetable Exporters, Importers and Merchants Association (PFVA) and the Ministry of National Food Security and Research, the report said.
The quarantine department will inspect hot water treatment facilities in the Punjab, it said. An approved government facility is up and running in Karachi.
Pakistani fruit exporters proposed the new measures to avoid a similar fate to Indian shippers, whose mangoes were banned by the EU in March due to repeated quarantine breaches.
But PFVA chairman Waheed Ahmed recommened alternative post-harvest treatments needed to be found, since many exporters do not have hot water treatment facilities. In the meantime, subsidies are needed to fund the treatment, and the Karachi facility needs to slash its costs by at least a 50 per cent, he told the publication.