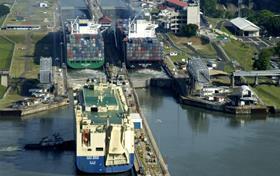 Antwerp Port Authority and Panama Canal Authority have announced an extension of their existing collaboration agreement, running it for a further five years with the option of an additional renewal.
The purpose of the agreement, which has been in place since 2010, is to promote trade between the port of Antwerp and the west coast of South America via the Panama Canal.
The initial tie-up was the first of its kind to be signed by the Panama Canal Authority with a European port, covering joint marketing initiatives, the exchange of market studies and the setting up of training programmes.
Information has also been exchanged on the handling of very large vessels, a unique feature of both the port of Antwerp and the Panama Canal, the groups noted.
Trade with South America via the Panama Canal is crucial for the port of Antwerp, amounting to some 4.7m tonnes annually, with seven liner services passing through the Canal on their way to or from Antwerp each week.
The renewed collaboration agreement was signed by administrator Jorge Quijano of the Panama Canal Authority and by CEO Eddy Bruyninckx and chairman Marc Van Peel from Antwerp Port Authority.