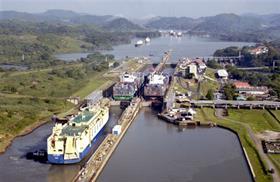 The Panama Canal is set to turn in a record set of results for the full year ending on 30 September 2011, according to canal administrator German Albero Zubieta.
Zubieta told Efe that the recovery in world trade would help push up tonnage transit and toll numbers, beating previous records for both, with the fiscal year expected to end with revenues of over US$2bn.
'In canal tonnage, the projection will be exceeded, possibly 15-20m tonnes more than we had budgeted,' he told the news agency.
'Projections for the remainder of the fiscal year ending September 30 show the total number of transits will be close to 320m tonnes,' he added. 'The previous high was in 2007 with 312m tonnes.'