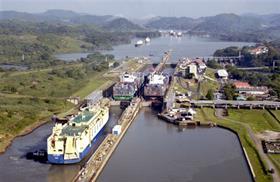 Groups have moved to urge the Panama Canal Authority (ACP) to eliminate further toll increases in 2009, or at least defer them for a period of time, amid concerns that the industry will not be able to sustain them.
BIMCO, Intercargo, Intertanko and the International Chamber of Shipping have written to the ACP warning that there were concerns about the increases, Lloyds List reported.
According to the publication, the letter sent to ACP administrator Alberto Aléman Zubieta highlighted the changes that had occurred to the economic landscape since the increase programme was revealed two years ago.
'The current global economic crisis has already had a severe affect on many ship operators – freight rates and volumes in most sectors have been badly impacted and the severe downturn is expected to last throughout 2009 and well into 2010,' the round-table group said.
'In the space of a very short period of time, the situation has changed so rapidly that some regular services have already been cut and there are fears that some owners or operators will not survive.'