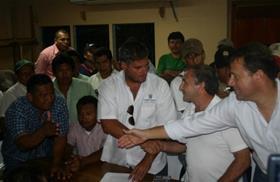 The government of Panama has reportedly reached an agreement with striking banana workers in the country by suspending a controversial law that restricted the right to take industrial action.
According to reports in Panama, a deal to end the 10-day strike was reached earlier this week at a meeting between the country's vice-president, Juan Carlos Varela, and representatives from banana workers' union Sitraibana.
The agreement included the suspension of several articles of the controversial Act 30, which had limited the rights of workers to join unions and restricted their ability to take strike action.
Some 4,000 members of the union and a further 3,000 independent banana producers went on strike on 2 July in protest against the restrictions, and the resulting clashes with Panamanian police left two people dead and 120 injured.