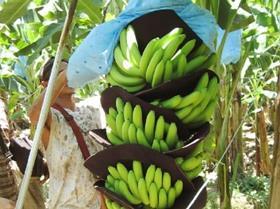 Panama is reportedly expected to experience a 20 per cent fall in banana exports, as a combination of a lack of investment, pest problems and adverse weather conditions continue to take their toll.

Export sales between January and November last year reached just over 17.6 boxes, which represented a decrease of 2.7m boxes compared with the same period of 2007, reports Prensa Latina.

The figures appeared as Panama's government was understood to be examining means of aiding the country's crisis-hit national banana cooperative Coosemupar.

The organisation has reportedly been facing difficulties since the end of its commercial relationship with Chiquita a year ago and the Panamanian authorities have now reportedly turned to private companies in a bid to revive Coosemupar's fortunes.

According to La Estrella, the country's government is considering leasing 3,000ha of Coosemupar-owned land to private firms, including a leading pineapple exporter, as part of an attempt to aid the stricken cooperative.

The land is part of the 6,000ha that Coosemupar owns in Panama, of which an estimated 50 per cent is reportedly no longer under cultivation.