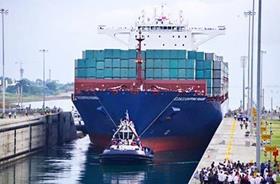 Neopanamax vessel COSCO Shipping Panama made history on Sunday as it made its way through the new Agua Clara Locks on Sunday during the inaugural transit of the Panama Canal Expansion.
Originally named Andronikos, the vessel was renamed in honour of the country of Panama and the canal. Panamanian President Juan Carlos Varela and Panama Canal CEO Jorge L. Quijano praised the almost 40,000 workers who made the expansion a reality with a message of pride, accomplishment, hope and opportunity.
"Our commitment to provide value to our customers remains paramount," said Quijano. "Today, we make history and improve global connectivity. We thank our customers for their support and appreciate the 170 reservations we have received thus far to transit the Expanded Canal."
The expansion programme is the canal's largest enhancement project to date. It included the construction of a new set of locks on the Atlantic and Pacific side of the waterway and the excavation of more than 150m cubic meters of material, creating a second lane of traffic and doubling the cargo capacity of the waterway.
The expansion will provide greater economies of scale to global commerce and introduce new routes, liner services, and segments.
However, Richard Bright of Reefer Trends said the impact on the fruit industries in South and Central America and beyond would depend largely on how and where carriers opt to deploy the Neopanamax vessels.
"Just because the new canal will be able to accommodate larger ships with a greater number of reefer slots, it won't automatically or necessarily lead to a step increase in the transportation of perishable products from the Pacific to the Atlantic, and/or vice versa," Bright told Fruitnet.
He said at present, there is a dramatic imbalance in the trade flow of perishable products through the canal, with eastbound volumes leading westbound volumes at an approximate ratio of 500:1.
"It is hard to see why trading patterns would change in the short term, despite the expansion. There is no latent demand on the side of the cargo holder – and much of what the rapidly growing markets in northern Asia currently import can be sourced either on the west coast of North and South America, or closer to home around the western edge of the Pacific Rim."