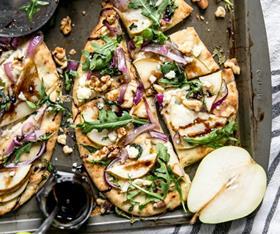 Pear Bureau Northwest (PBNW)has launched a new marketing initiative highlighting plant-based meals in response to the meat shortages and higher prices currently affecting North America.
In a bid to tap into the growing consumer interest in plant-based diets, PBNW has come with new recipes pairing fresh pears with meat substitutes and other plant-based proteins.
"Recognising the interest in plant-based meat amid the scarcity and higher prices in the meat department, we quickly pivoted our strategy by working with influencers to develop the recipes in a nationwide campaign," said president and CEO Kevin Moffitt.
"With more consumers cooking from home and looking for protein alternatives, we want shoppers to know that pears are incredibly versatile and filling as an ingredient.
"Pears are ideal with meat substitutes and in plant-based dishes, adding complex flavour and nutrients."
The multi-faceted campaign includes around 20 influencers in key markets around the US and Canada sharing pear recipe content that is focused on plant-based meat and alternative meat substitutes, plant-based dishes, and meals that are easy to cook at home for the whole family.
In addition to working with influencers, PBNW is also engaging diverse communities of consumers with targeted social media advertisements, newsletters and articles.
It said it had manage to remain nimble and innovative throughout the Covid-19 pandemic, directing consumers to our 400+ shoppable recipes with organic and paid social media, promoting pears for online shoppers, and educating consumers looking for longer lasting produce items.
The organisation will continue with this approach into the 2020/21 season with the expectation that these new consumer shopping behaviours will continue even as travel restrictions lift.