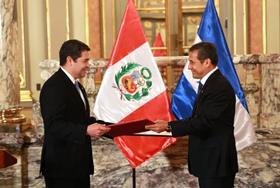 Peru and Honduras have inked a Free Trade Agreement, which aims at boosting trade and investments in both nations.
The deal was signed by Peruvian minister of foreign trade and tourism Magali Silva and Honduras' foreign affairs minister Auturo Corrales Alvarez on Friday, after which a ceremony was held in Lima to mark the culmination of an official visit by Honduran premier Orlando Hernandez to the Andean nation.
The agreement covers areas including market access, trade and investment, sanitary and phytosanitary regulations, competition and intellectual property, among others.
Peruvian president Ollanta Humala Tasso said the deal marked a significant step towards the conquest of new markets.
"This is an important step to intensify trade integration and find new stages to pursue trade cohesion," he told Andina. "It will allow both private forces and governments to forge trade-related strategic partnerships."
Hernandez claimed the agreement plays an important role in his country's attempt to partner with the Pacific Alliance.
"To Honduras it (the agreement) means a lot, because this allows us to meet the basic requirements that now give us a place as potential candidates to become full members of the Pacific Alliance," he said after explaining that what needs to be done now is to get the agreement ratified by the Congress of his country.