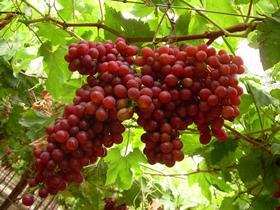 Vanguard has reported a positive start to its Peruvian grape campaign, with customers reporting good quality and condition on arrival.
Demand for Peruvian and Chilean grapes is particularly strong in Mexico and increasing in Canada, the US and Asia as California completes its storage season," the company said.
The company said its Peruvian grape harvest for traditional red and green grapes would be completed by the third week of February, IP varieties will be completed by the end of February, followed by the organic grape harvest predicted to be completed the firstweek in March.
As of week 5, Peru had shipped 48m cartons, 12m more than last season year to date. With the Piura crop complete, Peru is now projecting a total crop of 52-54m cartons representing a 12 per cent increase over the 2019/2020 season.
"A total of 14m cartons of Red Globes have been packed season to date in Peru, which is 2 per cent more than last year," the company said.
"We expect the coming weeks to show limited Red Globe production. Red Globes have been shipped to Colombia (675,718 cartons), China (2.16m cartons), the US (1.04m cartons), Indonesia (422,280 cartons), South Korea (188,520 cartons), and Taiwan (227,834 cartons)."
A total of 16m cartons of Peruvian green seedless grapes have been shipped season to date, an increase of 31 per cent over last season.
Sweet Globes are up 48 per cent on last season, representing 60 per cent of the total green seedless portfolio. The green seedless variety that has shown the largest decrease compared to last year has been Sugraone with 30 per cent fewer shipments than last year.
Vanguard said 12m cartons of Peruvian red seedless have been shipped so far, an increase of 13 per cent over last season. The varieties that have shown the most significant increases are Allison Red (+141 per cent) and Sweet Celebration (+51 per cent).
Ica has shipped 14m cartons so far and is predicted to ship around 12m cartons over February and March. This would represent an overall decrease of 2 per cent on last season.
Elsewhere, the devastating rainstorms that swept through table grape growing regions in early February have slashed Chile's forecast from 85m cartons to 65m cartons. As of 1 February, Chile has shipped 4.7m cartons, a fall of 39 per cent on last season.