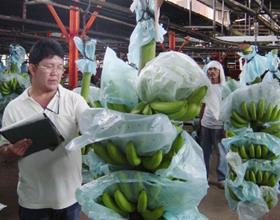 Banana exporters in the Philippines are looking to Europe and the Middle East as trade into China continues to languish.
Mindanao Banana Farmers and Exporters Association (MBFEA) president Ireneo Dalayon told Philippines newspaper the Sun Star there were positive signs Egypt, Dubai, Ukraine and Russia could all prove good markets in future.
While the level of demand was yet to be established, Dalayon said he expected shipments to these countries to commence before year-end and 100 containers were expected to be sent to Dubai as early as September.
Meanwhile, Pilippino Banana Growers and Exporters Association executive director Stephen Antig told Fruitnet.com China was still inspecting 100 per cent of banana shipments from the Philippines."This usually causes delays in the releasing of the containers so much so that some of the produce is already in an advanced stage of ripening and simply has to be dumped or shipped back at the expense of the exporters," he said.
Some containers, however, were being cleared in time to arrive in the market in a saleable condition," he added.
"The bottom line is the situation has not yet normalised. We are hoping that it will be soon. Otherwise, the small growers will definitely suffer considering they ship 90 per cent of their production to China."
Some growers had ceased production on their farms as a result of the slowdown in exports to China, he added.