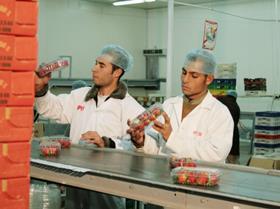 Leading Egyptian fresh produce exporter Pico is eyeing further expansion in the North American market after achieving its first successful exports to the region in 2013.
Despite the backdrop of political uncertainty in Egypt, the Cairo-based company successfully exported herbs to both eastern and western Canada during 2013, and is now preparing strawberry shipments for North America.
Pico has grown a number of different herbs on a small scale for the local Egyptian market for several years, but it has recently increased production for export and achieved organic certification for its herbs in 2013.
'With almost 20 kinds of herbs we can serve almost all needs, but we are strongly focusing on larger volumes of exotic basil types,' explained Heike Hagenguth, business development manager at Pico.
Despite a greater focus on North America, the group continues to strengthen in its traditional markets of UK and continental Europe, increasing market share through the development of products such as Wonderful pomegranates, mangoes, avocados and oranges.
In addition, Pico has seen continuous growth in products such as stonefruit and table grapes.
And with agricultural exports being one of the main drivers of the Egyptian economy, Hagenguth said Pico is seeing signs of positive development and is confident the country is on its way to stability.
'A lot of local and foreign initiatives to encourage foreign investment are taking place and we are receiving positive signals from investors who are starting to look at Egypt again,' she added.