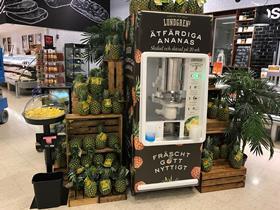 Dutch Food Technology (DFT) has announced its automatic pineapple-slicing machine Piñabar has received the NSFcertification.
NSF International is an independent organisation that certifies products and writes standards for food, water and consumer goods.
The announcement comes as the company reports its retail partners have experienced increased sales of fresh pineapples intheir Piñabar activated stores during the coronavirus (Covid-19) pandemic.
DFT said these increases can be attributed to the hygienic nature of the Piñabar machine, which peels and cuts fresh pineapples in-store, removing external residue.
"Our retail partners in Germany, Spain, Italy, New Zealand and South and NorthAmerica have seen customers coming in from wider areas for hygienic serviceslike fresh-squeezed juices and freshly peeled and cut produce," the company said.
"As customerscan see the peeling and cutting process, they understand no human interactionis needed, which decreases the impact of contamination from accidentalcoughing and sneezing."
Krishna Sheombar Sing, general manager Asia Pacific of DFT, sees potential in Asia post-pandemic and said recently Piñabar was successfully piloted at Walmart Chile and a multi-store rollout is scheduled.
"I see great potential in the Asian market for our Piñabar especially when fresh produce is now piling up. The Piñabar will definitely help with the pineapple surplus," Sing said.