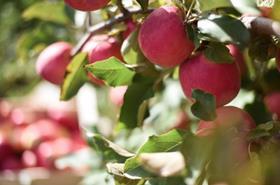 Pink Lady has said that it is celebrating a strong Northern Hemisphere season so far, following a series of retailer-based activations to help drive growth and brand penetration.
Indeed, recent Kantar data revealed penetration was at an all-time high at 38 per cent by the end of 2020.

Coregeo, the master licensor for the Pink Lady brand in the UK, reported a 15 per cent sales increase by value in 2020, resulting in a 19.5 per cent share of the total apple market by value (December 2020, 52-week data).
The growth in the Northern Hemisphere season has continued into 2021, with European shipment sales for January and February up 28 per cent on last year.
The arrival of the Northern Hemisphere crop has been championed with a variety of trade marketing activities across a selection of retailers.
These have included new season and on-pack stickering across packaging in store, in-pack giveaways, in-store shelf advertising and displays as well as retailer online banner advertising.

Ongoing trade marketing support and price promotions have also contributed to the brand's uplift in penetration and sales, which was backed up by the second wave of TV advertising for Pink Lady in the UK in January.

"We are thrilled that the Northern Hemisphere season has proved to be so productive and would like to thank our licensees and retailer partners for their continued support,' said Lynn Shaw, marketing manager at Pink Lady.
"The uplift in sales proves just how loyal consumers are to the brand and how invested they are in enjoying a Pink Lady moment as a positive part of their day, even during difficult times,' she continued. 'That positive moment is also reflected in our continued work with FareShare, with whom we are working alongside our retailer partners and licensees, tackling food poverty in the UK.
"Although the road to recovery from the pandemic is still somewhat uncertain, we remain positive about the year ahead,' Shaw added.