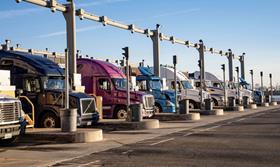 The Port of Los Angeles will introduce a Clean Truck Fund (CTF) rate in a bid to speed up the transition to zero-emissions trucks servicing its complex.
Effective 1 April 2022, a CTF rate of US$10 per TEU applies for all non-exempt trucks. The rate was jointly set by the ports of Los Angeles and Long Beach in March 2020.
Revenues will exclusively fund zero-emissions trucks and associated infrastructure to further the Port of Los Angeles' goal of eliminating emissions from all trucks calling at the Port by 2035.
"The Port of Los Angeles, our longshore workers, the entire supply chain, and our frontline communities have demonstrated extraordinary dedication throughout this unprecedented crisis," said Los Angeles mayor Eric Garcetti.
"As we continue to move record-breaking cargo through the busiest port in the Western Hemisphere, it is vital that we implement the Clean Truck Fund rate to expedite the transition of trucks servicing the Port to zero-emissions.