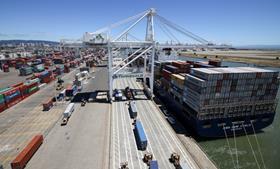 The Port of Oakland handled the equivalent of 1.08m TEUs from January through May, an all-time high for the five-month period.
At this pace, the port is on track to surpass 2.6m containers for the first time in a calendar year.
Driven by consumer demand, the import volume passing through the port has increased 20 per cent over the first five months of 2021, compared to the corresponding period last year. Most of that cargo originated in China or neighboring Asian countries, according to the Port of Oakland.
Export volume through the first five months of 2021 is down 1 per cent year-on-year. The port attributed the performance to a shortage of containers and space on Asia-bound ships early this year.
Port of Oakland maritime director, Bryan Brandes, said trade growth has pushed ocean freight rates to all-time highs. Brandes added that shipping lines do not have enough vessel space to meet demand.
'These are trying times for our tenants and customers, basically everyone involved in the supply chain," said Brandes. "We appreciate our colleagues in the maritime and logistics industries for their tireless efforts to keep goods moving during the pandemic.'
The surging trade has created a vessel backlog at the Port of Oakland. Ships have been forced to wait days to anchor in San Francisco Bay, due to berth crowding.
The issue has been compounded by reports of a Covid-19 outbreak at the Port of Yantian in China, which has disrupted cargo operations. The ripple effect from the incident has resulted in vessel congestion at multiple ports in south China.
"We're in unchartered waters; record cargo volume coming through US West Coast ports and a pandemic issue at a port in China are creating vessel congestion in both regions,' said Brandes.
The Port of Oakland hopes the hire and training of more dockworkers will ease congestion over coming months.