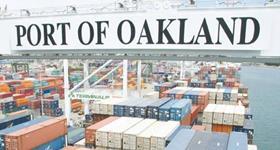 The Port of Oakland has launched a programme to expediate agricultural exports through its terminals.
The programme involves the use of additional yard space and equipment, along with restored export ship calls and access to funding assistance.
The move aims to provide relief to US agricultural exporters, who are facing shortages of export capacity and skyrocketing logistics costs.
"Under normal circumstances, the cargo volume at the port is approximately 50 per cent exports and 50 per cent imports, providing a match between inbound cargo and emptied containers for exports," according to a release from the Port of Oakland.
"However, the current import surge clogging up the ports is displacing ships and containers that are available to exporters, especially shipments of farm goods. The port saw significant drops in export volume due to skipped sailings of crucial export lines and lack of equipment for export cargo."
A dedicated 25 acre off-terminal container yard will be developed at the port, equipped to move containers off trucks and store them for rapid pick-up. The yard will eliminate the need to wait for in-terminal space, speeding up truck turn-around times.
Agriculture exporters will be assisted by federal and state agricultural agencies to use the yard.
Port of Oakland maritime director, Bryan Brandes, stressed the importance of ramping up US agricultural exports, particularly to Asian markets.
"We need the shipping companies to immediately restore the export lines from Oakland to South-East Asia and the Indian subcontinent," said Brandes.