South Africa's port authority says it is pulling out all the stops to enable a successful export campaign
South African citrus exporters have had to deal with three very trying seasons as far as smooth passage through South African ports was concerned.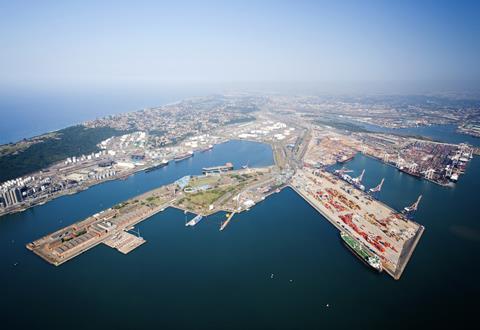 South African Citrus Growers' Association (CGA) executive Mitchell Brooke says the industry has been assured that Transnet is pulling out all the stops to ensure a successful 2023 citrus export campaign.
So far this year the country's fruit exporters have been struggling with delays at the port of Cape Town, while the peak citrus export season through the southeastern ports of Coaga and Durban will soon start.
In Cape Town the apple and pear shipping campaigns are now also in full swing and will last until June.
Brookes has admitted that as far as port operations go, South African citrus growers have had three very testing years.
Aside from standard export logistics issues, the South African citrus industry has also had to contend with electricity supply problems, which not only affect ports, but also packing and cooling on farms or in transit.
"Each port corridor region has conducted its 2023 reefer season kick-off meetings in which Transnet has laid out plans that focus specifically on rectifying any shortcomings that were seen as impediments during past seasons," Brookes said.
He noted that all port terminals had or were in the process of supplementing reefer stack capacity and plug capacity in line with the 2023 seasons export estimates to maximise terminal efficiency and to offset power or wind disruptions.
The Durban port has implemented the Bayhead Road bypass lane, which will assist to ease traffic congestion into the Durban Container Terminal, as well as traffic management for easy fruit flow into the port.
Through the Durban corridor there will be a strong focus on rail transportation from the interior hubs of Bela Bela, City Deep, Cato Ridge and Kingsrest.
Measures have been implemented at the Coega terminal in the Eastern Cape to combat disruption from wind, Brookes explained.
"We have been told that shipping services from Coega and Port Elizabeth ports is ready for the season, ensuring market access from the regions' ports is attainable without citrus being forced to be transported to Durban and Cape Town."
Brookes said it was pleasing that the Cape Town port had cleared the container vessel backlog and from 18 April, vessels will be berthing on arrival.
"This is a great relief for producers in the north as product needs to reach Europe and North America in the shortest time possible and ships loaded with citrus cannot wait off Cape Town to take on more fruit."
Last year South African citrus exporters also made use of the port of Maputo in Mozambique, and this is also likely to play a significant role in this season's exports.
Meanwhile the conventional reefer citrus export programme to the US is likely to start in late May, with early container shipments to North America having left already.