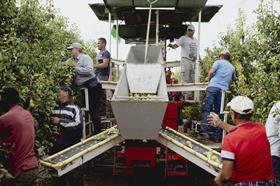 More than 10,000 tonnes of pears will be certified and sold under the Lleida Pear DOP this season, according to the label's regulatory council.
Favourable climatic conditions resulted in good quality crop this year, with an abundance of large sizes and high brix levels.
Harvesting of conference pears –the latest of the three varieties marketed under the DOP – was due to come to and end this week. The variety makes up around two-thirds of the DOP's total volume, with Limonera and Blanquilla accounting for 18 per cent and 16 per cent respectively.
The council's president, Gerard Pujol, said he had high expectations for the 2019/20 campaign.
"Our commercial department is working and closing agreements to increase the presence of the DOP in more commercial areas and, in addition, this year we will double our marketing budget to carry out different promotions that we will announce shortly," he said.