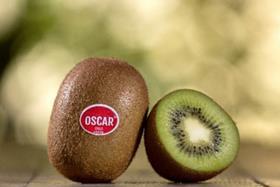 Despite the continuing difficulties presented by Covid-19 in Chile and a fall in national kiwifruit production, French supplier Primland announced that it expects its Chilean kiwifruit volumes to grow this season.
The company established its Primland Chile subsidiary back in 1998, enabling it to supply Oscar-branded kiwifruit every month of the year.
Given the current challenges, Primland attributes this season's positive outlook to the special relationships it has developed with local farmers over the years.
Following the coronavirus outbreak, Primland Chile acted quickly to strengthen the already strict health and safety measures at its Curicó-based station in order to provide its employees with the best possible working conditions.
The subsidiary is a member of the CDK (Comité del Kiwi) and Asoex, the Chilean Fruit Exporters Association, and its 200ha of orchards and 30 farmers are based between Rancagua and Linares, south of the capital, Santiago.
Chile-grown Oscar kiwifruit also enjoys the support of the "Image of Chile Foundation", whose logo appears on all its crates of kiwifruit, in recognition of the company's contribution to Chile's reputation abroad.